Cirrus Migrate Cloud for FSxN
Start realizing the benefits of your fully managed shared storage in the AWS Cloud for free!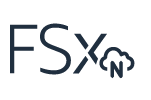 Amazon FSxN makes it easy and cost effective to launch, run, and scale feature-rich, high-performance file systems in the cloud. It supports a wide range of workloads with its reliability, security, scalability, and broad set of capabilities.
With Cirrus Migrate Cloud, you can now migrate block-level storage data to Amazon FSx with zero downtime. Cirrus Migrate Cloud is the only solution that is fully interoperable with AWS for FSxN data migration.
See how you accelerate your move to Amazon FSxN with Cirrus Migrate Cloud
Mauris commodo turpis elit, sed dictum orci pharetra ac.
Data Mobility Unleashed with Cirrus Migrate Cloud
Zero
Downtime
Cirrus Migrate Cloud extends the patented pMotion™ software to the cloud with cMotion™. With the introduction of cMotion, it is now possible to execute your cloud migration with zero downtime.
Seamless
Experience
Cirrus Data is the only non-disruptive solution for block-level data migration to AmazonFSx for ONTAP. Our patent-pending mTDI makes it possible to have thousands of host-based migration sessions running without creating bottlenecks.
Maximize
Automation
Cirrus Migrate Cloud will automatically pause and resume migration without human intervention, guaranteeing that the migration does not impact the business application performance.
Deep Dive into Cirrus Migrate Cloud for FSxN
Cirrus Migrate Cloud, a web-based portal built to enable the migration of block-level storage data to and between clouds. Discover how Cirrus Migrate Cloud enables the migration to Amazon FSx for NetApp ONTAP with zero downtime and with 1TB free.*
Limited 30-day trial offer of Cirrus Migrate Cloud for FSxN. After 30 days, you can either extend the license for another month or purchase a 60-day package.
Want to learn more? Sign-up today!